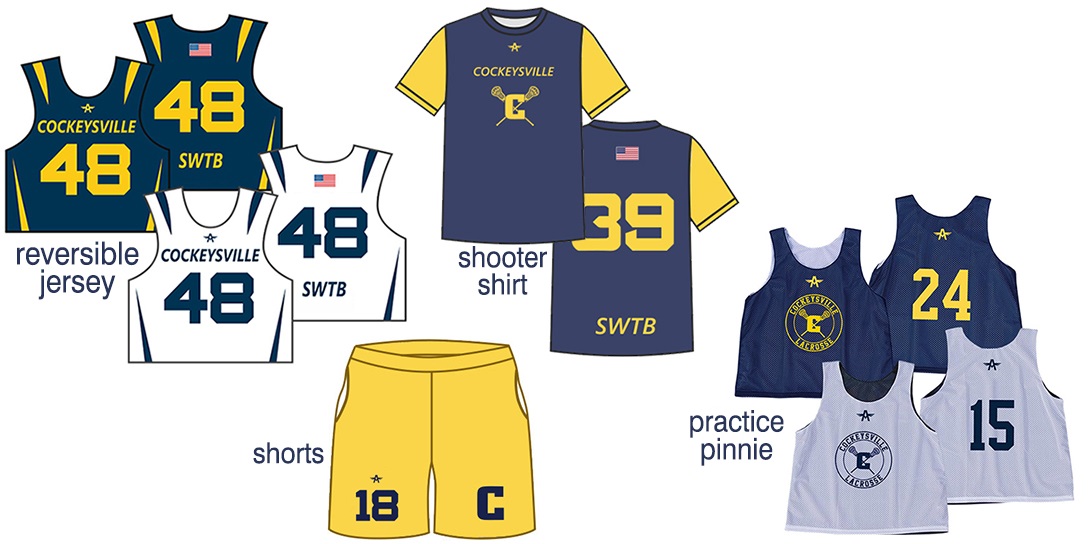 Cockeysville Lacrosse Reversible Game Jersey, Game Shorts,
Shooter Shirt, Reversible Practice Pinnie & Socks Package - $125

The complete package: home / away Reversible Game Jeresy personalized with players number. Numbered shorts have number on right thigh, Cockeysville logo on left thigh. Shooter shirts provide a comfortable practice top with players number imprinted on back of shirt. Reversible Mesh Practice Pinnie included with players number imprinted on the back. Cockeysville Lacrosse socks also included in each package (2 sizes).

Package Includes:

1 Reversible Numbered Game Jersey: Youth & Adult Sizes

1 Numbered Shooter Shirt: Youth & Adult Sizes

1 Numbered Game Uniform Shorts: Youth & Adult Sizes

1 Reversible Numbered Practice Pinnie: , Size Charts
Note - Different sizing than Game Jerseys

1 Pair Uniform Socks: Intermediate & Youth Sizes

Item #1CBLACE2018PKG

---
Cockeysville Lacrosse Uniform Items Sold Seperately
---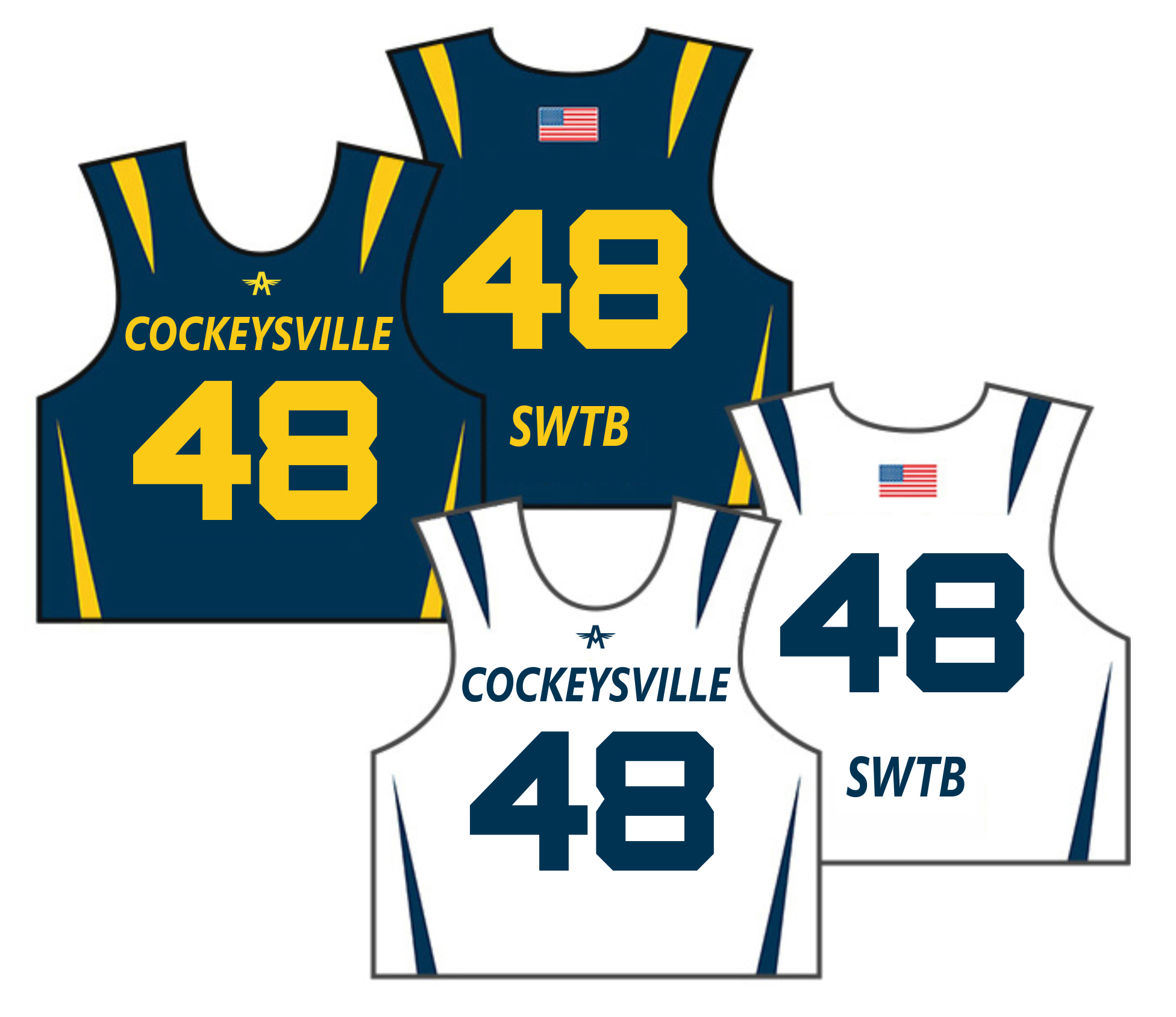 Cockeysville Lacrosse Reversible
Numbered Game Jersey
$50

Home / Away Reversible Game Day Jeresy personalized with player number on front and back.

Adult & Youth Sizes, Youth Chart, Adult Chart

Center Chest: 'Cockeysville' text above Players Number

Back: US Flag, Players Number & 'SWTB' text

Item #1CBLACEREV-JER


---
Cockeysville Lacrosse
Numbered Shooter Shirt
$25

Cockeysville Lacrosse Shooter Shirt personalized on back with players number and US Flag. Cockeysville Lacrosse logo front and center on the front of shirt.

Adult & Youth Sizes, Youth Chart, Adult Chart

Center Chest: Round Cockeysville Lacrosse logo

Back: US Flag, Players Number & 'SWTB' text

Item #1CBLACESS



---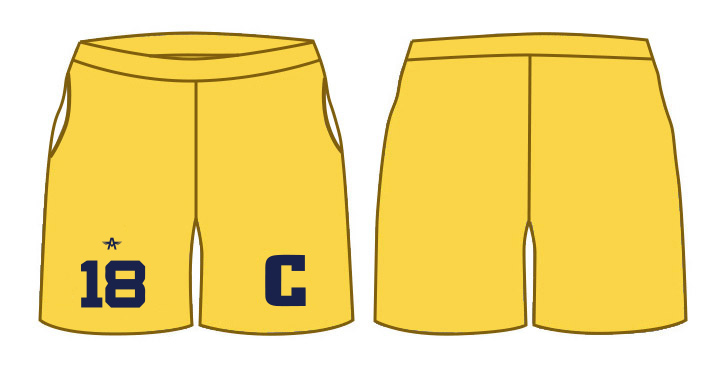 Cockeysville Lacrosse
Numbered Players Shorts
$30

Cockeysville Lacrosse Players Shorts personalized on right thigh with players number. Cockeysville Lacrosse 'C' logo on left thigh.

Adult & Youth Sizes, Youth Chart, Adult Chart

Left Thigh: Cockeysville Lacrosse 'C' logo

Right Thigh: Players Number

Item #1CBLACESHORT



---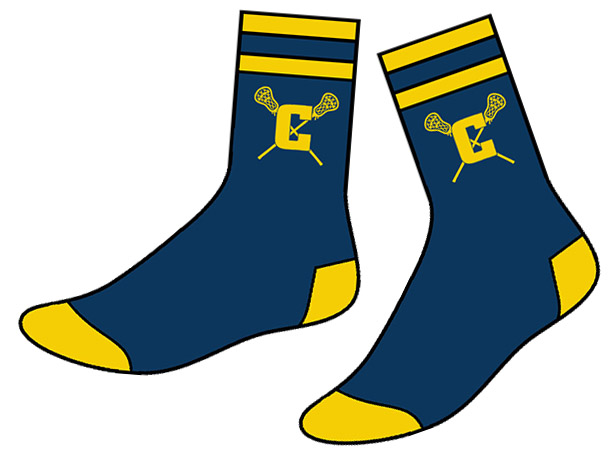 Cockeysville Lacrosse
Players Game Day Socks
$12.50

---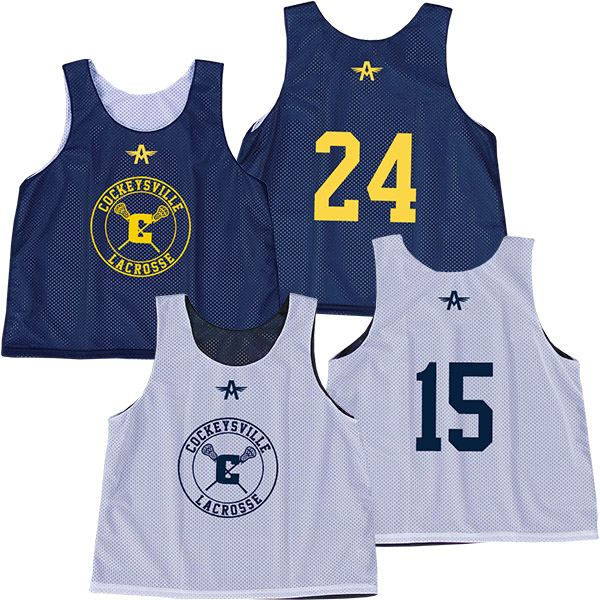 Cockeysville Lacrosse
Players Numbered Practice Pinnie
$25

Cockeysville Lacrosse players numbered practice pinnie. Reversible, navy / white. Athletic mesh.

Adult & Youth Sizes, Size Charts
Note - Different sizing than Game Jerseys

Front: One color imprinted Cockeysville Lacrosse logo

Back: Imprinted player number

Item #1CBLACEPIN

---